Our People - Doug F. Gibbs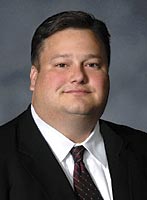 Doug F. Gibbs (1968 - 2014) Doug worked with his dad since 1985. His experience includes residential, acreage, commercial, and industrial properties, representing both buyers and sellers.
Doug kept his finger on the pulse of the community through his involvement in civic organizations. In particular, he served on the Chamber of Commerce committees helping to plan for reasonable growth in Plant City that preserves our small-town heritage.
Earned Designations
Licensed Real Estate Sales Associate
Associate in Arts, Hillsborough Community College
Honors and Awards
International President's Award, Lions Club International
Melvin Jones Fellow, Lions Club International
Grand Lion, Lions Club of Florida
Mel Carver Fellow, Lions Club of Florida
Lion of the Year Awards, Plant City Lions Club
President's Appreciation Awards, Plant City Lions Club
Professional Organizations
Greater Tampa Association of Realtors
Florida Association of Realtors
National Association of Realtors
Civic Organizations
Rotary Club of Plant City - Member since 2011, Director 2012-2013
Greater Plant City Chamber of Commerce - Chairman, 2007; Board Member, 1997-2008
Greater Plant City Chamber of Commerce Foundation - Board Member
Plant City Lions Club - President, 1996-1997; Member, 1990-2010
East Hillsborough County Law Enforcement Appreciation Association - Chairman, 2006-2009; Board Member, 1998-
Advisory Council, Plant City Photo Archives
http://plantcityobserver.com/2014/05/22/goodbye-gibber/

Copyright 2008-2018 by Jack T. Gibbs, Realtors
Page last updated: 1/2/2015